Introduce fencing in more schools to make it more popular: Bhavani Devi | More sports News
[ad_1]

NEW DELHI: She wielded the sword to escape studies while in the sixth standard. Little did the kid named
CA Bhavani Devi
, daughter of a priest, know that it would become her fate -- to script history in 2021 as India's first fencer to be at the Olympics.
At 5:30 am in the morning, the entire country woke up to see Bhavani on the piste for her women's Sabre Individual match at the Tokyo Games. Those still half-asleep stood up when Bhavani beat Tunisia's Nadia ben Azizi 15-3 in her first match. India's fencing story at the Games had opened with a win.
Her next match, a Round-of-32 battle, was against Manon Brunet -- the world No. 3 from France. It was a little too much to ask from the Indian debutant at the Games to get past the more experienced Brunet, who won 15-7 to end the Indian's stay in the Tokyo Games. Bhavani bowed out of the competition, but with her head held high.
One thing Bhavani didn't fail in doing was putting India on the Olympic map. It's not surprising that she was overwhelmed, a little choked, when she left the athlete's Village.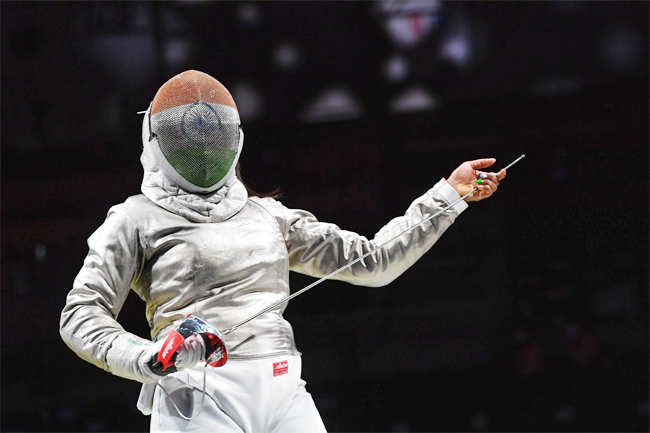 Image credit: Bhavani Devi's Twitter handle
Talking about that experience, weeks after the day her dream came true, it still gives Bhavani goosebumps.
Excerpts from an interview...
Surely that day will always remain fresh in your mind. Can you take us through your emotions on the morning of your Olympic debut?
It was my first Olympics, so the excitement had always been there. Also there was a special feeling when I was preparing on my match-day. I was a little bit tense at the same time and was emotional while stepping onto the stage as I was representing my country. But overall it was a positive vibe for me.
You fought valiantly against the world No. 3 Brunet. Did she exchange any words of encouragement at the end of the match?
We smiled and greeted each other before the match. The referees also were talking to us. After the match, we could just touch our swords instead of shaking hands as per Covid-safety protocol.
My first @Olympics experience has given me a lot many memories and learnings. I am thankful to all your constant lo… https://t.co/zRrNdYlLvo

— C A Bhavani Devi (@IamBhavaniDevi) 1628310818000
Can you explain your emotions when you entered the Olympic village, and when you left after your competition?
The feeling was one of joy and excitement. I had been waiting for this day, to be in the Olympic village, around top athletes in the world, and it happened. When I was leaving the village, I had a feeling to stay there a bit longer and watch events of other Indian athletes. But now I am motivated towards my next goal.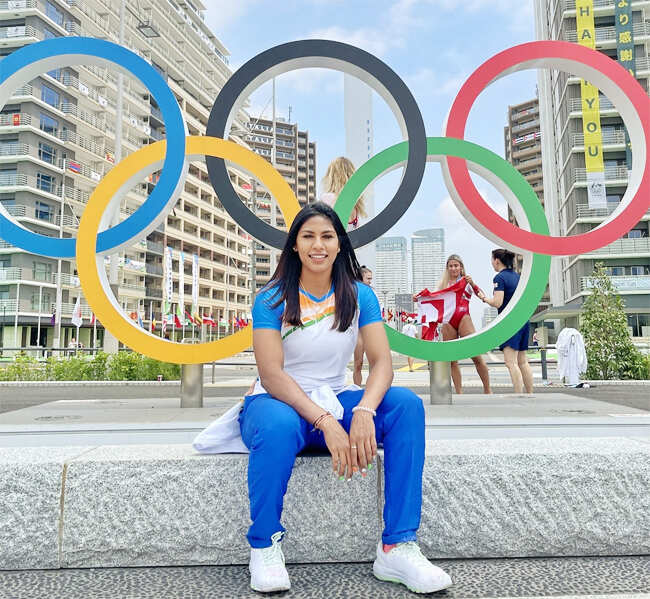 Image credit: Bhavani Devi's Twitter handle
Now that Indian fencing has marked its first appearance at the Olympics, how do you think the sport can be popularized in India?
I think fencing is already getting popular. It was the first time my match was on live telecast, and many people watched, even when it was at 5:30 am (IST). We need to conduct more camps in India, people need to be updated about fencing events. Also the fencing association president,
Rajeev Mehta
, had announced sometime ago that they are going to open training centres across India. Other than this, I feel fencing should be introduced in (more) schools.
Depending on the safety and availability of equipment, how easy or difficult do you think is it to popularise fencing in India among the kids?
Everything is difficult before it becomes easy, so we have to go step by step. It needs to be introduced in schools and more training centres should be opened, which is already in process. It will help in popularising the sport among the kids in the country. Fencing equipment is costly, but with the help of the government and NGOs, it can be made available to local people.
[ad_2]
Source link
August 18, 2021, 9:03 am